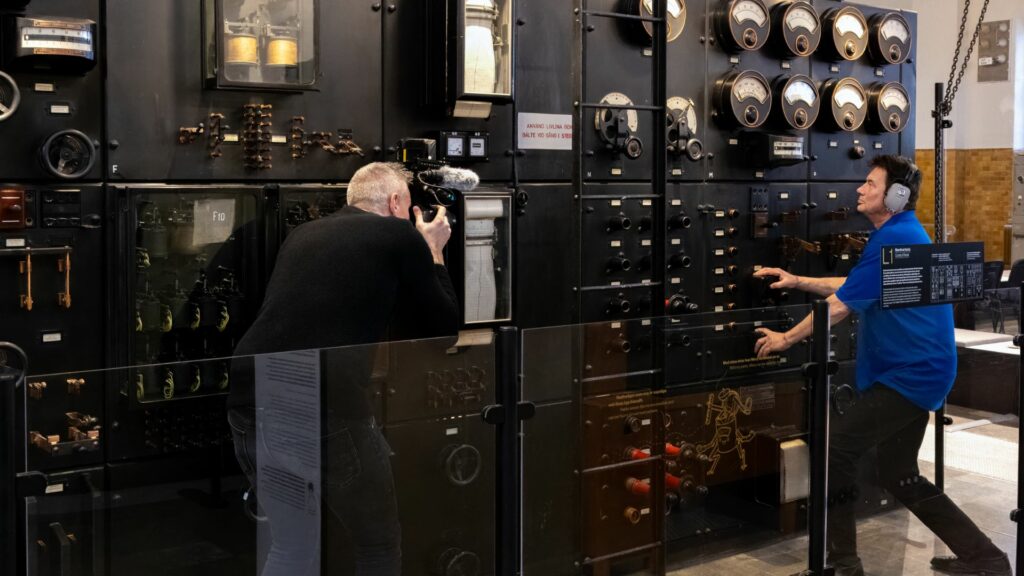 On UN-Day, October 24th 2023 SAQ was able to air again after a few months of maintenance and spread a peace message to the world.
Building and equpiment maintenance
During the period of August until mid October, there has been some building maintenance, preventing the Alexanderson alternator to be operated during this time. The scaffolding around SAQ was removed less than a week before the UN-Day transmission.
During this period, the Alexander association has made some major maintenance of the compensation rheostat, emptying it from water and sodium carbonate, cleaning it out and refilling it with new fresh water. As the mixing recipe was unclear, the refilling of sodium carbonate could only take place during tests on the day before the UN-Day transmission.
We added food grade sodium carbonate, with very low chloride levels, starting with 250g and then started the alternator. We managed to get a good tuning of the drive motor speed but the compensation rheostat was at its upper max position, indicating that the sodium carbonate concentration was too low.
So, we added another 50g, retuned the drive motor, added yet another 50g and made a final tuning of the drive motor. On transmission tests on Oct 23rd, we had good results with the tuning and power output.
Transmitter startup
The team from the Alexander association at the transmission:
Superintendent & guide: Fredrik Wiklund
Operator: Anders Törblad
Morse key operator: Kai Sundberg
Mobile camera: Thomas Alexandersson
Camera assistant: Bengt Örnegren
Video technician: Janne Severinsson
Visitor guide: Jan-Åke Gylling
Our video live stream started at 16:25 CEST (14:25 UTC) and the transmitter startup began at 16:35 CEST 14:35 UTC).
Frequency drifting
Initially, we managed to get a good tuning of SAQ, but during the transmission of the message, the frequency started to drift a lot, which many of you listeners did notice. We are not fully clear of what caused this drifting. Maybe we need to take a closer look at the compensation rheostat and the sodium carbonate concentration, or maybe it was something else in our tuning procedure which did not function as expected. We will investigate and share our findings with you.
The transmitted message
CQ CQ CQ DE SAQ SAQ SAQ =THIS IS GRIMETON RADIO STATION/SAQ IN A TRANSMISSION USING
THE ALEXANDERSON 200KW ALTERNATOR FROM 1924 ON 17.2 KHZ.=
ON NOV 17TH 1923, BABICE RADIO STATION WAS LAUNCHED IN POLAND, WHICH TOGETHER
WITH GRIMETON RADIO STATION AND SEVERAL OTHER STATIONS AROUND THE WORLD,
CREATED THE SO-CALLED WORLD WIDE WIRELESS. ON THAT DAY A MESSAGE WAS SENT TO
THE WORLD ABOUT HOPE AND DESIRE THAT NEW MEANS OF COMMUNICATION WOULD
CONTRIBUTE TO THE DEVELOPMENT OF PEACEFUL ASPIRATIONS OF HUMANITY
AND MUTUAL UNDERSTANDING OF THE NATIONS OF THE WORLD.
ON THE 100TH ANNIVERSARY OF THOSE EVENTS, WE WOULD
LIKE TO CONVEY OUR WISHES OF PEACE TO THE ENTIRE WORLD.=
SIGNED: RADIO STATION BABICE AXO/AXL, WORLD HERITAGE GRIMETON RADIO STATION
AND THE ALEXANDER GRIMETON FRIENDSHIP ASSOCIATION. + =
FOR QSL INFO PLEASE READ OUR WEBSITE: WWW.ALEXANDER.N.SE
DE SAQ SAQ SAQ @
Listener reports
It is so great to receive all your fantastic QSL reports, we read and follow up everyone of them!
In the first 24hrs we have recieved over 250 reports. THANK YOU ALL!!
Interactive listeners' map
On our interactive map, all received reports so far can be found. It will be uppdated every 2-3 days unitil we close our online form on November 10th. Each marker is clickable and will display the reported information.
Join the Alexander association
We welcome you as a member of the Alexander Grimeton Friendship Association, to support our non-profit activities in preserving, documenting and bringing to life the unique Alexanderson alternator from 1924.
As member, you have 10% discount on the World Heritage Grimeton Radio Station gift shop and café (not ice cream) and free entrance to the evening tours and the Alexanderson Day event, by showing your membership card. Four times per year, you will receive our online magazine "Alternatorn", exclusively available only to our members.
Members also has access to our on-line library with lots of unique historical documents about SAQ and the Alexanderson alternator.
NEW! Our library now also includes several SAQ educational videos.
Alexander members also have free admission to the Radio Museum in Gothenburg.
Membership costs SEK 125 / year.