The 99 year old Alexanderson alternator SAQ was able to spread a peace message to the world on World Radio Day, February 13th, 2023. The weather was beautiful with mild temperatures and sunny. The transmission was initiated at 15.30 CET (14.30 UTC) with the startup and tuning of the Alexanderson alternator. A message was sent out at 16.00 CET (15.00 UTC).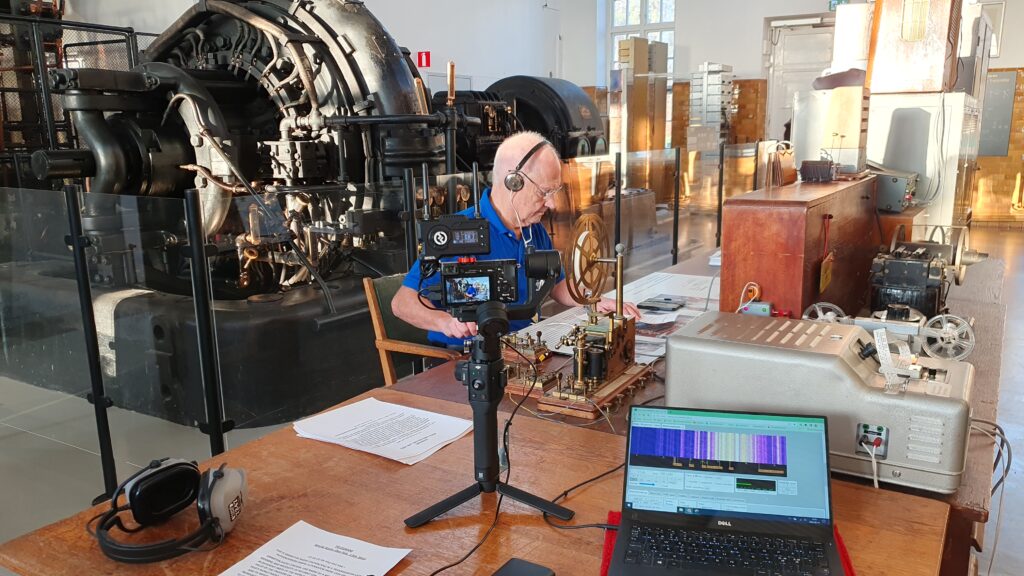 The team from the Alexander association at the transmission: Superintendent & guide: Anders Börjesson Operator: Anders Törblad Morse key operator: Kai Sundberg Mobile camera: Bengt Örnegren Video technician: Janne Severinsson  
The transmission
A test with SAQ was made at 13:00 CET (12:00 UTC) with successfull tuning and signal strength. On the main transmission  we had severe problems with drifting, see chart below, showing how the signal is dropping right after startup. A greater dip can be seen when the transmitter was idle for about 1 minute, waiting for the manual keying of the message. After that it catches up but then continues to drop until the keying of the message is completed. We have really no clue what happened, maybe we did not tune optimally in the start and did not pay enough attention to what was going on, later during the manual transmission. We will evaluate this to avoid this situation next time. Despite the tuning issues, we have received many reports and the signal from SAQ has reached as far as Australia.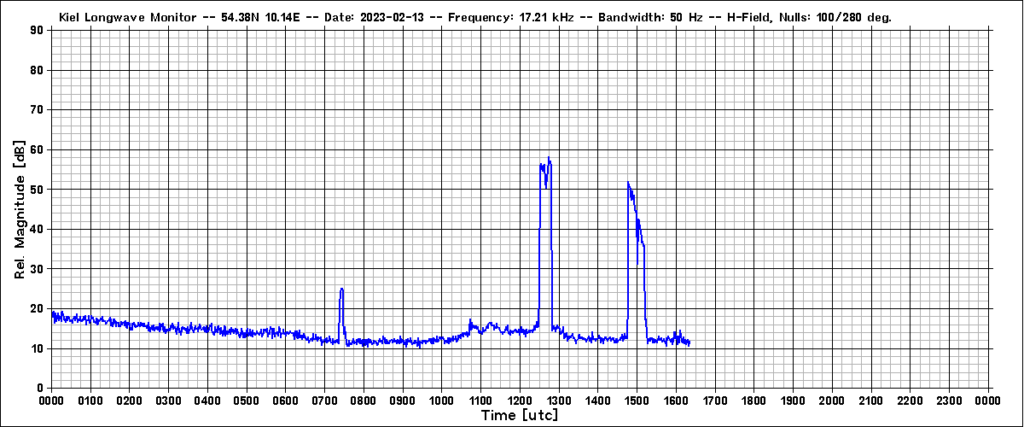 Video broadcast
The event was also broadcasted live on our YouTube channel and we had some 800 simultaneous viewers. The chat function was frequently used and can be viewed together with the video. https://www.youtube.com/watch?v=MJXhbE1bDOk    
The transmitted message
CQ CQ CQ DE SAQ SAQ SAQ = THIS IS GRIMETON RADIO STATION/SAQ IN A TRANSMISSION USING THE ALEXANDERSON 200KW ALTERNATOR FROM 1924 ON 17.2 KHZ. = GRIMETON RADIO STATION, LIKE RADIO AS A MEDIUM, SYMBOLIZES THE MEANING AND NECESSITY OF RELIABLE COMMUNICATION BETWEEN PEOPLE IN DIFFERENT PARTS OF THE WORLD, AND EMPHASIZES THE VITALITY AND VALUE OF THE FREEDOM OF SPEECH AS A BASIC HUMAN RIGHT. ON THIS YEAR'S WORLD RADIO DAY, WE WISH TO HIGHLIGHT INDEPENDENT RADIO AND ITS IMPORTANCE IN CONFLICT PREVENTION AND PEACEBUILDING. INCREASED SUPPORT TO INDEPENDENT RADIO IS NECESSARY TO ALLOW IT TO CONTINUE BRIDGING DIVIDES AND PROMOTING DIALOGUE, WHICH ARE KEY FACTORS IN ACHIEVING GLOBAL PEACE. = SIGNED: VARBERG CALLING FOR PEACE NETWORK, WORLD HERITAGE GRIMETON RADIO STATION AND THE ALEXANDER-GRIMETON FRIENDSHIP ASSOCIATION. + = FOR QSL INFO PLEASE READ OUR WEBSITE: WWW.ALEXANDER.N.SE DE SAQ SAQ SAQ @    
Listeners' reports
Again, we are very overwhelmed by all the positive response from all of you.
THANK YOU to all for your efforts and your positive enthusiasm!
We have received in total 364 reports.
The FINAL summary report with all listener reports can be downloaded here.  
SAQ heard in Western Australia
One report we would like to highlight this time is from Steve Hatfield, who managed to hear SAQ in Western Australia.
Steve tells "The loop is 21M circumference, approx. 6.5 diameter. 21 x1mm wires spaced at 20mm. On my YT video I had the loop parallel with about 14nF, calculated to resonate at SAQ. This was directly input via back to back diodes to the sound card, which damped the Q somewhat. I had previously built a FET buffer but by the time I raised the loop it was getting dark and you were starting to transmit the test signal which was coming in clearly so I didn't connect it. Today I went back out to my tree and connected the buffer. I can only imagine the signal I would have received if the tuned loop had a higher Q forSAQ. I made a short video with the buffer in, tuned to SAQ freq.
Near the end of the vid I tuned higher and you can see the effect of the tuned freq Q on the signal level on adjacent signal. It significantly has an effect on the noise level. So today I took out my DSO and sig gen to find the SRF and tuned Q of the loop. Unfortunately the 240v inverter made so much hash at 85KHz the scope was unusable. Calculated L was 6.7mH, the measured inductance was 6.54mH. DC r 10.9 ohms. Calculated capacitance for SAQ was 14270 pF, actual cap was 13400pF."
Interactive listeners' map
On our interactive map, all received reports so far can be found. It will be uppdated every 2-3 days unitil we close our online form on March 3rd. Each marker is clickable and will display the reported information.
Click here to open the map in full screen mode.