It was a wonderful Christmas Eve morning in Grimeton, Sweden on December 24th. A little bit of white snow on the ground and -4 C in the air – great conditions for a successful SAQ transmission. The pandemic regulations did impact the event and no visitors could be present in the transmitter hall at the radio station. The limited number of staff and assistants did their best of the situation, by serving traditional swedish Christmas buns and ginger snaps, together with "glögg" (non-alcoholic mulled wine) and we were all in a good Christmas sprit.
The transmission was initiated at 08.30 CET (07.30 UTC) with the startup and tuning of the Alexanderson alternator. A message was sent out at 09.00 CET (08.00 UTC)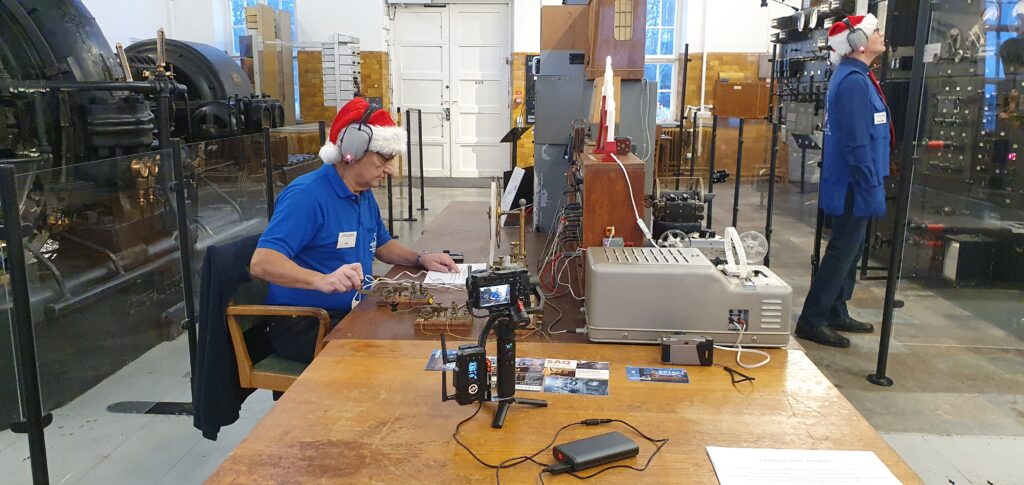 The team from the Alexander association at the transmission:
Superintendent & guide: Fredrik Wiklund
Operator: Jan-Åke Gylling
Telegraphist: Kai Sundberg
Mobile camera: Lucas Frisk
Video technician: Thomas Alexandersson
The event was also broadcasted live on our YouTube channel:
The transmitted message
CQ CQ CQ DE SAQ SAQ SAQ =
THIS IS GRIMETON RADIO STATION/SAQ IN A TRANSMISSION USING 
THE ALEXANDERSON 200 KW ALTERNATOR ON 17.2 KHZ. =
WE WISH YOU ALL A MERRY CHRISTMAS AND A HAPPY NEW YEAR.=
SIGNED: WORLD HERITAGE GRIMETON RADIO STATION AND THE
ALEXANDER GRIMETON FRIENDSHIP ASSOCIATION. + =
NB: FOR QSL INFO PLEASE READ ON OUR WEBSITE  ALEXANDER.N.SE + =
DE SAQ SAQ SAQ @
Listeners' reports
Again, we are overwhelmed by the great response from all listeners and all the fantastic stories we have received about how to receive SAQ. We have received a total of 647 listerner reports from all over the World- a new record! Here is our FINAL Summary Report – SAQ Christmas Eve Morning 2021 transmission.
Additionally, we did also receive many interesting reports from our test transmissons on Dec 23 and Dec 27. Thank you ALL for your enthusiasm and positive feedback!
Interactive listeners' map
On our interactive map, all received reports can be found.
Each marker is clickable and will display the reported information.
Click here to open the map in full screen mode.